Residential Painting Services in Palm Coast, FL
Need a professional House Painter? You've come to the right place!
Does your living room look outdated? Has your little girl grown out of her pink princess phase? Or could your man cave use a stronger color? A new paint job could solve all your woes and improve your home's overall value. From repainting bedrooms and common areas to sprucing up home exteriors, our contractors can do it all! And once we finish, you'll be left with a space that looks beautiful for years to come.
Read More

Has your search for home painting companies that understand your vision for your next project led to unsatisfactory results? Thankfully, with Dr. Paint, your quest will finally end! Our house painting company was built with the client's wants and needs as its main pillar. Homeowners won't ever have to worry about one of our house painting contractors not giving them what they ask for. If it can be done, we will do it, and it will be to the best of our abilities and at an agreed time and budget that makes you smile.

Our residential painting services in Palm Coast, FL, prides itself on serving homeowners in and around the FL area, including:

If you believe our home painting services are right for your home, click the button below to get a free estimate, and we'll send out one of our house painting contractors to your home immediately!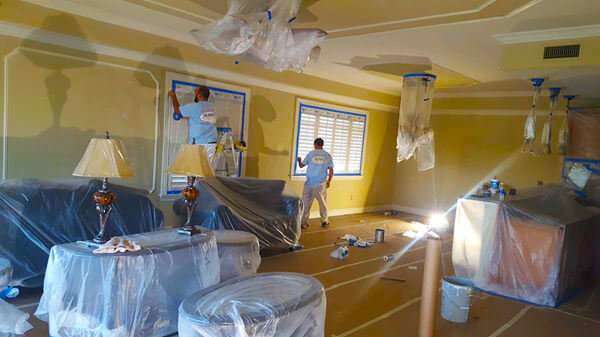 Get Affordable and Professional Home Painting in Palm Coast, FL
Say goodbye to the home painting services that could lower your curb appeal. At Dr. Paint, we are committed to delivering only the best painting jobs. Can affordable jobs also have a professional finish? Yes, they can! Our painters combine efficiency, effectiveness, and premium quality paint to ensure you get a beautiful paint job at a price that can't be beaten!
Avoid the costly mistakes of hiring the wrong painter.
get your free estimate today!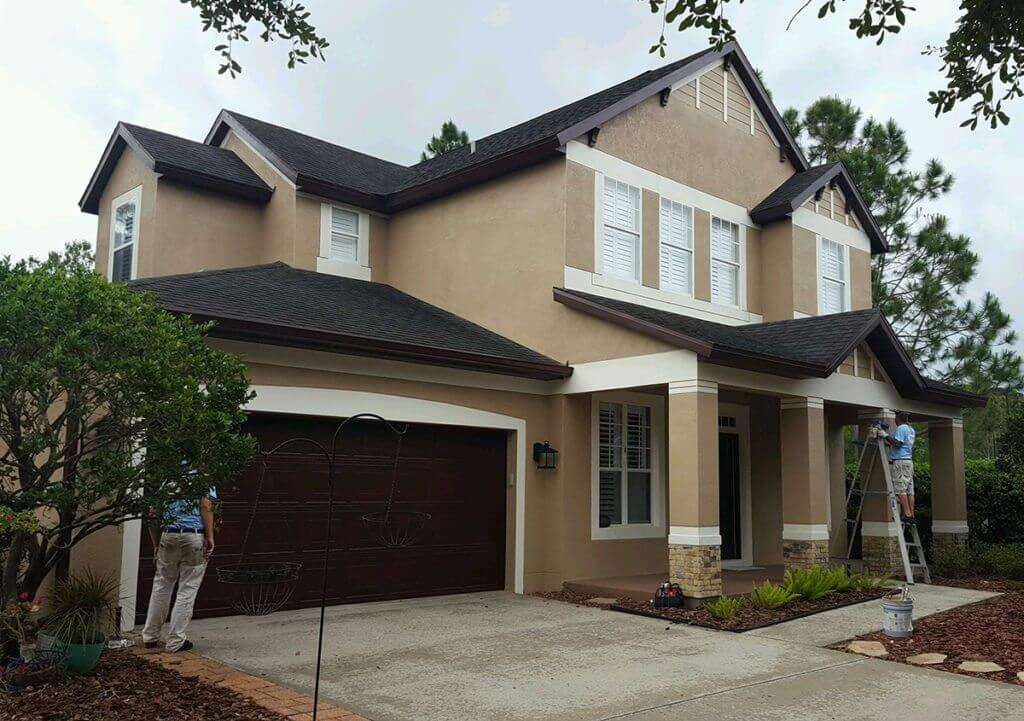 A Unique Process for Unique Projects
Our house painting company stands out for using a unique combination of standard operating procedures, daily checklists, and ongoing supervision to produce consistent quality for each project. Our standard procedures include:
Inspection and Preparation: We start by inspecting your home's interior and exterior, identifying any damages or areas that need attention. We prepare the surfaces thoroughly, including pressure washing or soft washing your walls to set a strong foundation that ensures you get long-lasting results.
Paint Selection: Our team will guide you in choosing the perfect paint color and type that suits your taste and fits the Palm Coast environment for a beautiful and durable finish.
Professional Painting: Our experienced painters use the highest quality paints and materials, paying attention to every detail to achieve the best outcome.
Clean-Up: We take pride in leaving your home spotless after completing the project. Our team ensures all materials and equipment are cleared away, leaving you with a beautifully painted home and nothing else to worry about.
Keep our residential painting services in Palm Coast, FL, on speed dial, and you'll never have to question if any good home painting companies are in your area.
Local House Painters That Give You the Interior Look You Deserve
With Dr. Paint on your side, interior painting projects are a piece of cake! We are experts when it comes to interior painting, and we know exactly what your property needs regarding design, color, and texture. Our house painting contractors also deliver professional finishes for all of our jobs. Homeowners know we're the go-to company in Flagler County, so give our residential painting service professionals in Palm Coast, FL, a call today!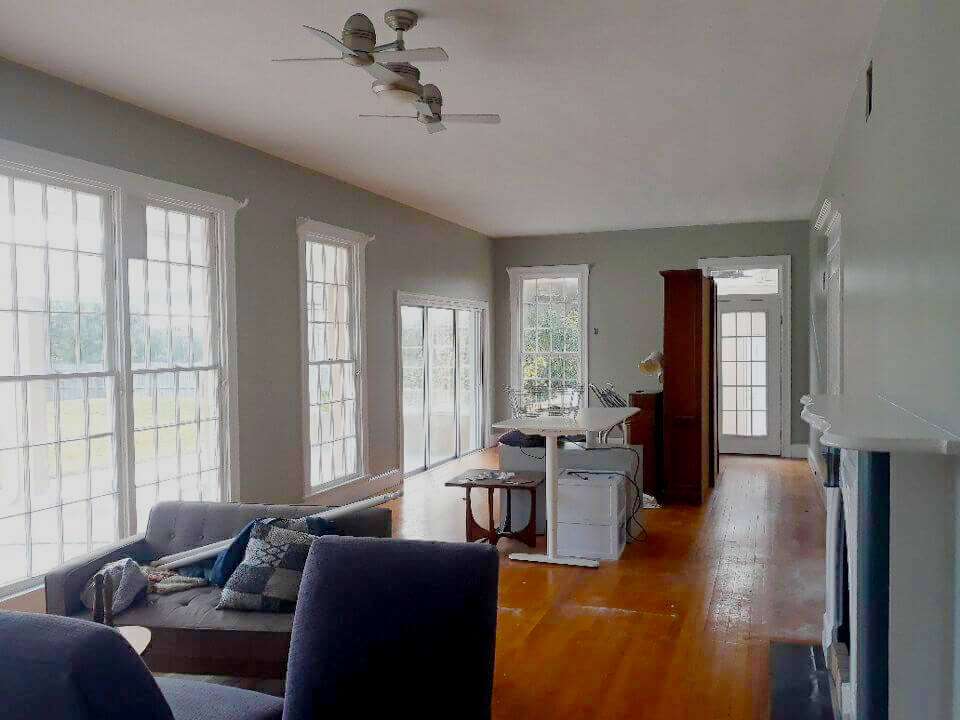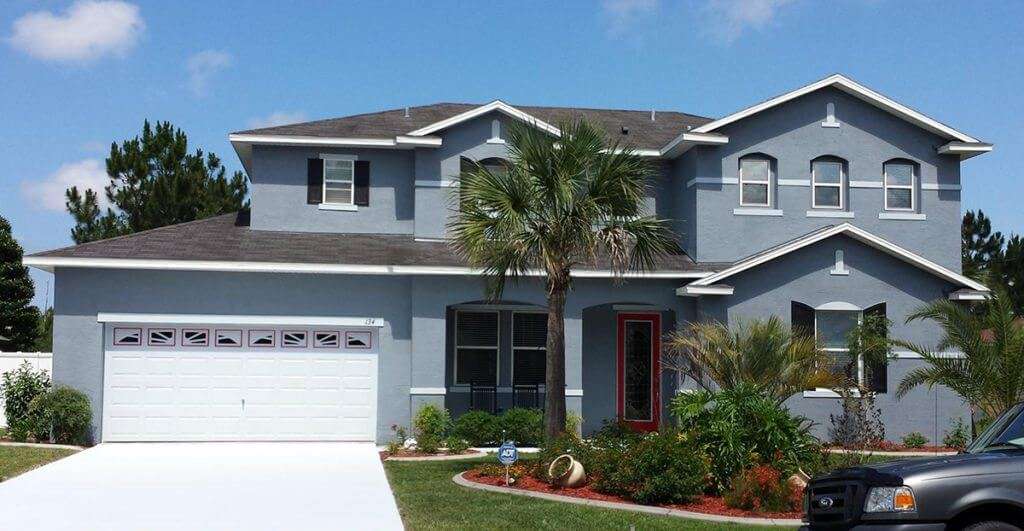 A Residential Painting Company That Keeps Your Property Safe
Not sure who to hire to do your next exterior painting job? Palm Coast homeowners have their own residential painting company right in their backyards. Our local house painters offer skill and expertise that is of the utmost importance in these kinds of projects. The exterior of your property isn't only important aesthetically but also provides safety and efficiency for your home. Our painters are keenly aware of the importance of your home's exterior, and we always provide the best quality painting service in town.
Read More

Our House Painting Services Will Create Your Dream Home

Palm Coast offers an array of beautiful sights to behold and many adventures to be had. It's also home to one of the best painting companies in the industry. At Dr. Paint, we offer a wide range of residential painting services to cater to every aspect of your home. With the following services, our professional painters in Palm Coast, FL, can transform every room into a masterpiece:

How to Know if It's Time to Repaint Your Home's Interior

It's essential to keep an eye out for signs that indicate your home's interior needs a fresh coat of paint. Some common indicators include:

Fading and Discoloration: If you notice fading or discoloration on your walls, it's time to consider hiring professional painters in Palm Coast, FL, to restore their original beauty.
Cracks and Peeling: Cracks and peeling paint not only look unsightly but can also indicate underlying issues that need attention.
Outdated Colors: If your current paint colors no longer reflect your style or taste, a new coat of paint can breathe life into your home's interior.

Let Our Residential House Painters Take Your Home to the Next Level!

Painting your home doesn't have to be difficult, and with the residential house painters at Dr. Paint, you'll never worry about a painting project again! We're so certain you'll get a job you love that any job comes with a 5-year labor and material warranty and service guarantee, ensuring that you will be happy when we leave!

We serve homeowners in St. Augustine, Flagler Beach, Ormond Beach, Daytona Beach, or Port Orange, FL, so get a free painting estimate today! Learn why Floridians prefer our growing residential painting services in Palm Coast, FL, or explore other services like our drywall repair and commercial painting for businesses.

Frequently Asked Questions About House Painting Services

How long will the paint job take?

The duration of the project depends on the size of your home and the extent of the work required. Our Palm Coast team will provide you with a timeline during the initial consultation.

Are your painters insured?

Yes, all our professional painters are fully insured, granting you peace of mind throughout the painting process.

Do I need to move my furniture before painting?

We recommend moving furniture and valuables away from the walls to ensure their safety and to make it easier for our team to paint efficiently.

Will the paint fumes be harmful to my family?

We use low-VOC paints to minimize any potentially harmful effects of paint fumes.

Can you help me choose the right paint colors for my home?

Absolutely! Our experienced color consultants are here to assist you in selecting the perfect paint colors that harmonize with your existing decor and personal preferences.

Do you offer exterior painting services for stucco homes?

Yes, we specialize in painting various types of exteriors, including stucco homes. Our professional painters have the expertise to ensure a flawless finish that enhances your home's curb appeal.

Can you help with drywall repairs before painting?

Absolutely! Our Palm Coast, FL, team includes skilled technicians who can handle minor drywall repairs, ensuring that your walls are in excellent condition before we start the painting process.

What types of finishes do you offer for interior painting?

We offer a variety of finishes, including matte, eggshell, satin, semi-gloss, and high-gloss. Each finish has unique characteristics, and we can guide you in choosing the best option for each room.

Do I need to be present at home during the painting project?

While it's not necessary for you to be present at all times, we appreciate your availability during the initial consultation and project planning. We'll work around your schedule and ensure a hassle-free experience.

How do I maintain the freshly painted surfaces after the project is complete?

Maintaining your painted surfaces is essential for their longevity. We'll provide you with care instructions and tips to ensure your paint job stays beautiful for years to come.

Do you offer touch-up services for existing paintwork?

Yes, we offer touch-up services for previous paint projects done by Dr. Paint. If you need to refresh a specific area, simply reach out to our Palm Coast, FL, team, and we'll take care of it for you.