Fence Painting Services in Palm Coast, FL
A fence doesn't simply provide an additional layer of security and peace of mind for your family; it also enhances your home's curb appeal. At Dr. Paint, we're committed to protecting the structure that protects your loved ones. We offer comprehensive fence painting services in Palm Coast, FL, to ensure your fencing can withstand the test of time — and look great while doing it!
If your fence could use a boost, speak to our fence painters today! We'll help you choose the color that helps achieve the look you're going for. Whether you need help with a wood or chain link fence painting project, we've got you covered.
Read More

Where Can You Find Our Fence Staining & Painting Services?

There's no better way to instantly improve your home's curb appeal than with a fresh coat of fence stain or paint. Plus, it extends the lifespan of your fence! If you're looking for an affordable way to freshen up your home's exterior, try the fence painting services from our Palm Coast, FL, experts.

We don't simply offer our fresh fence painting ideas to homeowners in Palm Coast. We serve clients all throughout Flagler County, St. Johns County, and Volusia County, including the following communities:

Flagler Beach, FL
Augustine, FL
Ormond Beach, FL
Daytona Beach, FL
Port Orange, FL

Our team loves painting fences, and we don't shy away from complex projects. Whether you need help with a commercial or residential project, we're the ones to call. Don't hesitate to reach out today to begin discussing your fence painting job.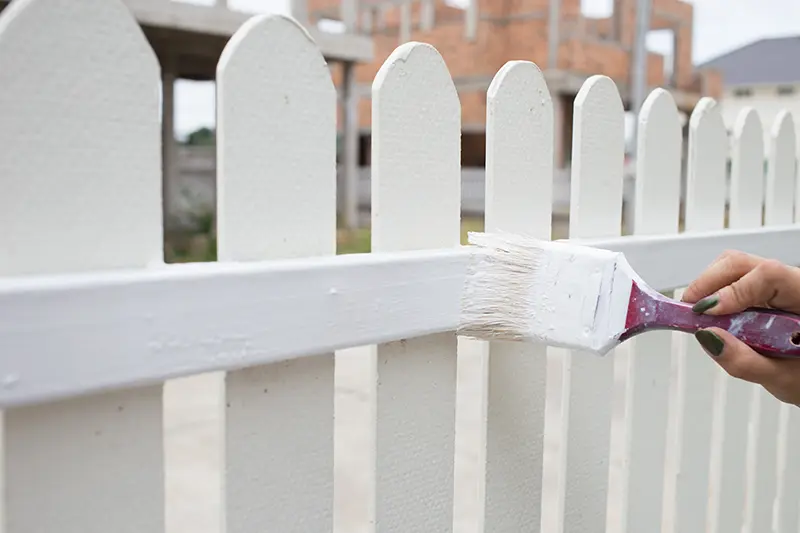 The Benefits of Staining or Painting Your Fences
If you are looking to enhance the appearance of your property or increase its curb appeal, fence staining or painting is a great place to start. Not only will it give your fences a fresh and vibrant new look, but it can also protect them from the elements.
Here are some additional benefits of our fence painting and staining services in Palm Coast, FL:
Improved Durability: When fences are coated with high-quality paint or fence stain, they are better able to withstand weathering and everyday wear and tear.
Lower Maintenance Needs: Regular staining or painting can make cleaning your fences a breeze! Simply spray them down with a garden hose and use a gentle scrub brush to remove stubborn dirt, and they will look great year-round.
Increased Property Value: Beautifully painted or stained fences can significantly enhance your home's aesthetic and provide an attractive first impression to potential buyers.
Avoid the costly mistakes of hiring the wrong painter.
get your free estimate today!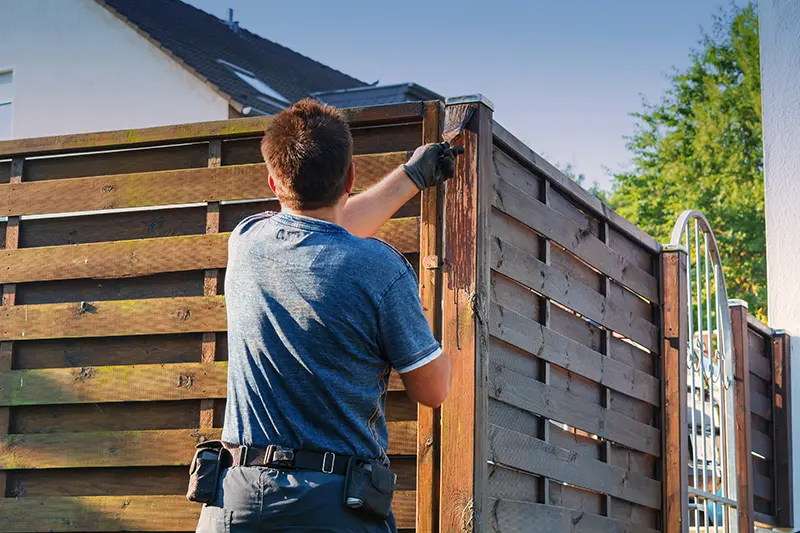 Want a More Natural Look? Try Our Fence Staining Services!
In addition to our Palm Coast, FL, fence painting services, we offer an array of staining options. Fence staining is one of the most effective ways to protect and enhance the natural beauty of your wooden fence. We provide exceptional fence staining services that can give your fence a stunning finish that lasts for years to come. Our experts use the best-quality stains designed to penetrate the wood fibers, seal out moisture, and create a durable barrier against harsh elements, such as UV rays and extreme temperatures.
We offer a wide range of options to choose from, including different shades, textures, and finishes that can add a unique charm to your property. Plus, with our affordable pricing, fence staining is an accessible service that can fit any budget. Let our professionals help you maintain and beautify your fence with our reliable fence staining services.
Read More

Should I Paint or Stain My Fence?

Deciding between painting or staining your fence can be a difficult decision to make. Here are some factors that can help you make the best choice for your property:

The look you want to achieve: If you prefer a more uniform appearance or wish to add a bold pop of color to your fence, painting may be the way to go. However, if you like the natural appearance of wood, staining would be the best option.
The level of protection you require: If you live in a climate with harsh weather conditions, paint may provide a thicker barrier between the wood and the elements.
The age and condition of your fence: If your fence is brand new or in great shape, a light stain may be all it needs to restore its natural beauty.

If you can't decide which option is right for your home, simply give our pros a call. We'll help you pick the perfect paint or stain for your needs and budget. Plus, we can provide unique ideas for your chain link or wood fence painting project!
Schedule a Service With the Best Fence Painters Today!
Ready to make your fences the envy of the neighborhood? Our team of talented painting professionals is standing by to provide the services you need to achieve the look you desire. Contact us today to schedule your fence painting services in Palm Coast, St. Augustine, Flagler Beach, Ormond Beach, Daytona Beach, or Port Orange, FL! We're eager to provide fence painting ideas that will enhance your Flagler County, St. Johns County, or Volusia County home.