Kitchen Painting Services in Palm Coast, FL & Surrounding Areas
Giving your home a fresh, new look starts in the kitchen — the heart of your home. Here, your family comes together, whether over a home-cooked meal or washing dishes, you spend time with each other. It's also one of the first things guests see when they visit, so upgrading your kitchen can do so much to help create the perfect mood. From warm and inviting to cheerful and bright, your kitchen's decor can be anything you want with a fresh coat of paint. And our kitchen painting company in Palm Coast, FL, and the surrounding areas can help you get it there.
At Dr. Paint, we understand what it takes to bring your visions to life. Whether you already know the exact colors you would like added to your kitchen walls or need help deciding, our kitchen painters will transform your space using premium paints and time-tested painting methods. Your kitchen will become the ideal entertaining space, and you will never want to leave.
Read More

Find Our Kitchen Painting Contractors Near You

Our kitchen painting contractors proudly serve Flagler County, St. Johns County, and Volusia County. You can frequently find us completing interior painting jobs in the following communities:

Palm Coast, FL
Flagler Beach, FL
Augustine, FL
Ormond Beach, FL
Daytona Beach, FL
Port Orange, FL

For exquisite kitchen painting jobs, turn to our residential and commercial painters today! We look forward to delivering eye-catching results.
Our Trusted Kitchen Painters Will Add Color to Your Home
Unlike other painting contractors who breeze in and out of jobs with little thought to the homeowner's particular interests and needs, our kitchen painting company prides itself on offering a personalized experience to every client. We take our time getting to know your aesthetic preferences and goals and explaining how we can achieve them. By carefully planning your kitchen painting project, we avoid common mistakes and ensure the job is completed on time and to your complete satisfaction.
Because you are entrusting your home to our care, we thoroughly screen and vet our painters. Our eight-point screening process, which includes an in-person interview, hands-on test, and drug screening, ensures only the best kitchen painting professionals in Palm Coast, FL, and the surrounding areas are allowed in your home. Not only are they vetted for your peace of mind, but they are also rigorously tested to make sure they can meet our high standards. No matter if you want to achieve a modern aesthetic or classic cottage vibes, our kitchen painting services can bring your vision to life.
Avoid the costly mistakes of hiring the wrong painter.
get your free estimate today!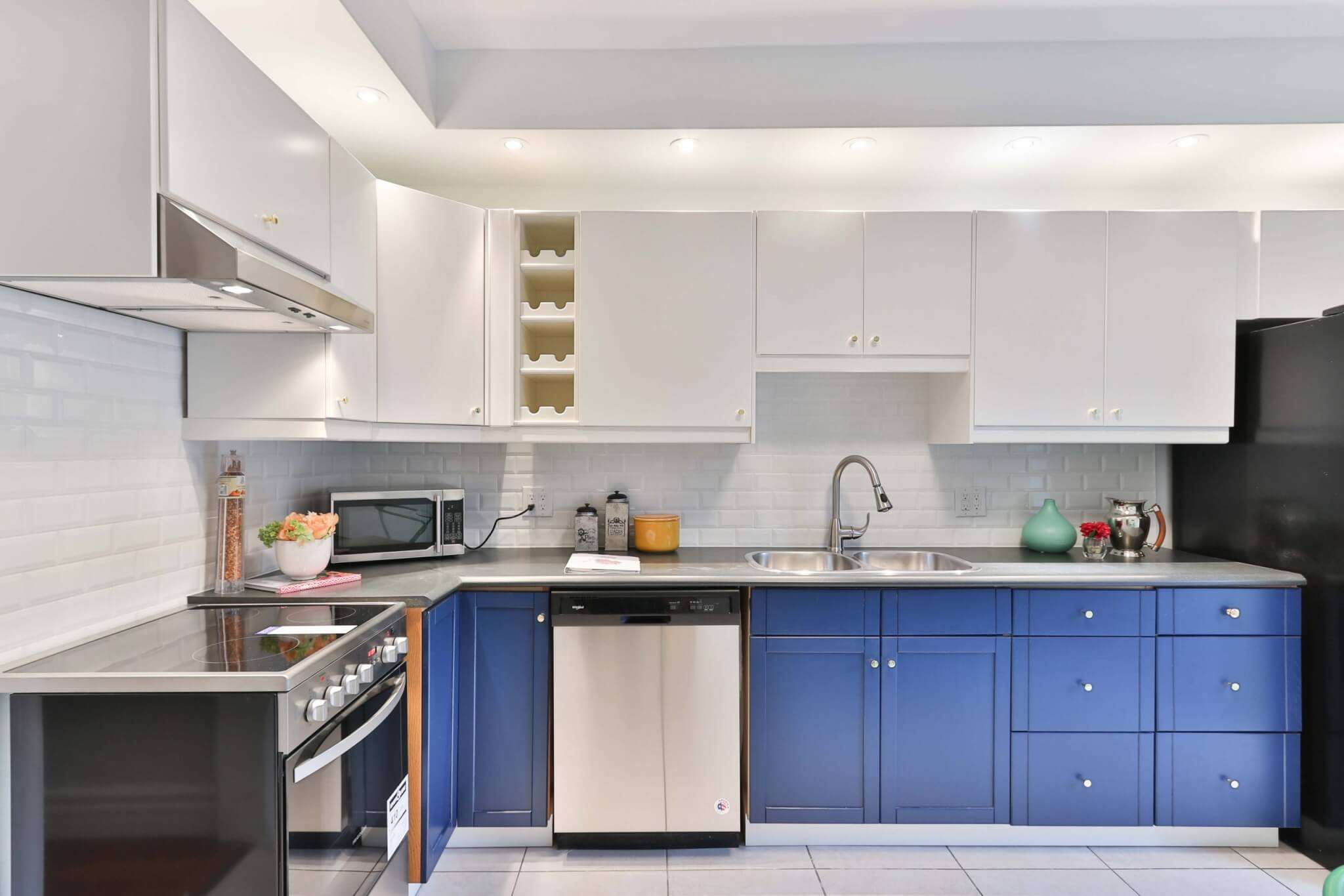 Bringing Your Kitchen to Life: Top Colors to Consider
If you're thinking about starting a kitchen painting project in Palm Coast, FL, or the surrounding areas, it's time to explore all the paint color options available. White, gray, blue, red, and green are all excellent choices, and each one can provide various benefits. When you work with our kitchen painting contractors, we will help you narrow down your options to the color that will set the perfect mood and achieve your design goals.
White
White is an excellent, classic choice. It will make your kitchen feel clean and fresh, and it allows you to have more creativity with your kitchen cabinets, countertops, and backsplash.
Gray
If white seems too dull to you, but you still don't want to go crazy, gray could be the paint color for you. Gray walls in the kitchen add depth and sophistication while still allowing you to add pops of color to your cabinets or countertops.
Blue
Blue certainly has its place in the kitchen. Light blue can invigorate a space, while dark blue can ground it. No matter which shade you choose, remember to balance it out with other colors so that it doesn't overwhelm your kitchen.
Red
This color is known to stimulate the appetite and can be the perfect paint color for those who consider themselves expert home cooks. Used for an accent wall or the kitchen cabinets, red paint will surely make your kitchen pop.
Green
If you love earthy vibes, you will want to consider incorporating green paint into your kitchen's design. Lighter greens pair well with white or wood accents, while emerald green can add energy to the space.
No matter which colors you are leaning toward, our kitchen painting professionals in Palm Coast, FL, and the surrounding areas can help you revitalize your kitchen and create the perfect mood. Speak to our team today to start planning for your new kitchen.
Start Your Kitchen Painting Project Today
Are you ready to get the kitchen you've always dreamed of? With our kitchen painting professionals in Palm Coast, FL, and the surrounding areas just a phone call away, it's easier than ever to breathe new life into your home. In addition to giving your kitchen a new paint job, we can also handle any of your other interior painting needs. We offer these services and more throughout St. Augustine, Flagler Beach, Ormond Beach, Daytona Beach, and Port Orange, FL.
Reach out to our team today for a free estimate or to book your kitchen painting services. We look forward to serving you in Flagler County, St. Johns County, Volusia County, and beyond.