Bathroom Painting Services in Palm Coast, FL & Surrounding Areas
Bathrooms are often neglected in terms of decorating and repainting. However, a new coat of paint can quickly elevate this space into an oasis and improve your home's overall value. If your bathroom is in need of an upgrade, you don't necessarily have to invest in a complete remodel. Instead, get in touch with our bathroom painting company in Palm Coast, FL, and the surrounding areas.
We'll apply a new paint color that will withstand the high-moisture environment of your bathroom and allow it to look beautiful and welcoming for years to come. Inquire about our bathroom painting services and brighten up your home today.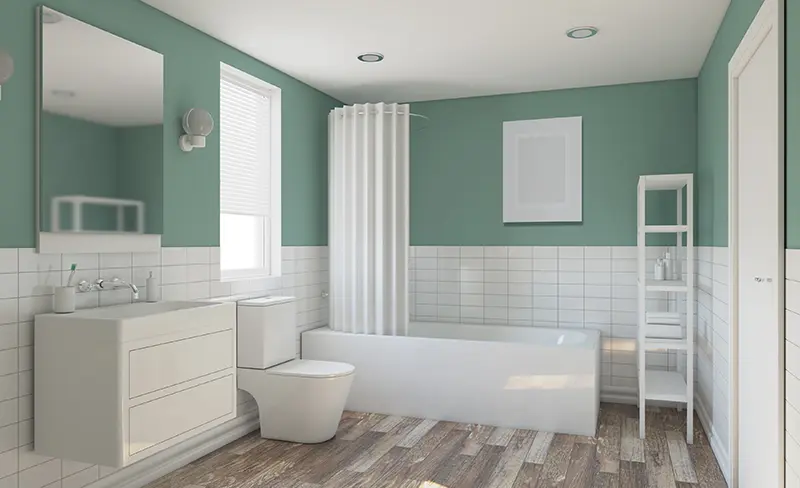 The #1 Bathroom Painting Company in Florida Is Ready to Serve You!
When your bathroom has seen better days, it can feel uncomfortable (and unsanitary) getting ready in this space. This is no way to live, as the bathroom is supposed to serve as a place where you can prepare for and unwind from the day. Our bathroom painting contractors in Palm Coast, FL, and the surrounding areas can help you reclaim your space. With a fresh coat of paint, your bathroom will feel newly energized, fresh, and clean.
For premier bathroom painting services in Flagler County, St. Johns County, and Volusia County, turn to Dr. Paint, where we color happiness back into your life. If you live in one of the following communities (or nearby), request a free estimate today:
Flagler Beach, FL
Augustine, FL
Ormond Beach, FL
Daytona Beach, FL
Port Orange, FL
Avoid the costly mistakes of hiring the wrong painter.
get your free estimate today!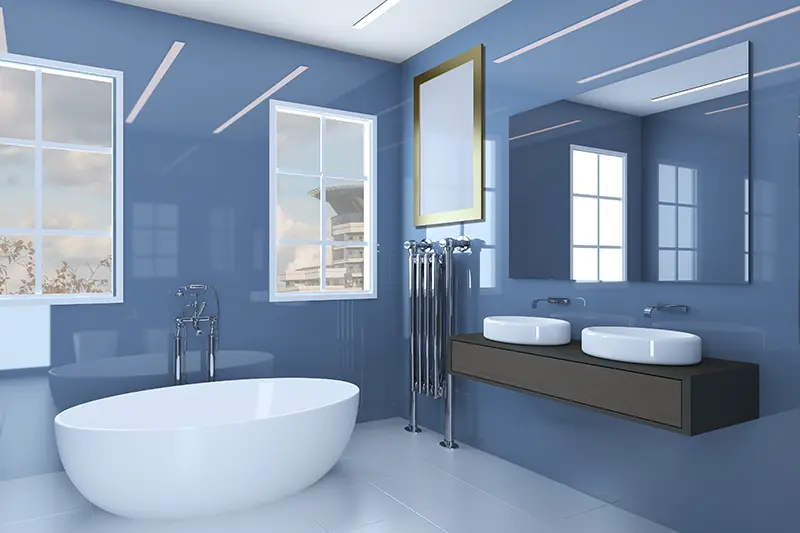 What to Expect: Our Bathroom Painting Process
Whether you are tackling a bathroom remodel or simply want to give your master bath a new look, you want to ensure you're entrusting the project to the best bathroom painting contractors in Palm Coast, FL, and the surrounding areas. One of the best ways to do this is to examine the process.
At Dr. Paint, we have spent a decade refining our painting process to deliver unmatched results. When you hire our house painters for bathroom painting services, you can expect our team to pay particular attention to even the smallest details. We'll not only help you choose the perfect paint color for your bathroom walls, but we will also take the necessary steps to ensure the paint stays where it belongs. This involves sanding or repairing spots on the walls and covering tubs and toilets to prevent drips and splatters.
Once our bathroom painting professionals in Palm Coast, FL, and the surrounding areas finish your project, we will perform a walkthrough with you to ensure every detail is up to your standards. If something is amiss, we'll work tirelessly until it's right. Our interior painters have worked on dozens of projects and have the expertise and skill needed to bring your dream bathroom to life.
Read More

Bathroom Wall Painting

Bathrooms have some of the highest traffic in a home, and for this reason, they will often show signs of wear and tear before any other space in a house. The walls are particularly prone to damage and wear. While scuffed and scratched walls are unsightly, peeling paint is of particular concern, as this can lead to serious mold issues from built-up moisture and humidity. The good news is that our bathroom painting services in Palm Coast, FL, and the surrounding areas can quickly remedy the situation, prevent further issues, and give your space a whole new look — all at the same time!

Our professional painters will help you select quality paint that can withstand the moisture and humidity of your bathroom. Not only that, but our paint recommendations will enhance the overall appearance and mood of this tiny corner of your home.

When it comes to bathroom wall painting, it's important to remember that color is key to setting the mood. Whether you are interested in cool colors for relaxation or bright colors for energy, our bathroom painters will ensure your room looks stunning for years to come.

Bathroom Vanity Painting

Bathroom vanities experience a great deal of use over the years, and while they may continue to serve your needs, they may begin to look outdated and worse for wear. The good news is that you don't have to invest in a whole new vanity. Instead, you can restore it to its former glory with the help of our bathroom painting company.

We have years of experience refinishing cabinets and can complete your bathroom vanity painting project with superior results and at a fraction of the cost of installing new cabinets. Whether you're interested in using the same color as your original vanity or a new hue, our residential and commercial painters will provide ideas that will make your bathroom vanity look brand-new.
Our Bathroom Painters Will Help You Create an Oasis
Painting bathrooms can be time-consuming, tedious projects that many homeowners do not have the time for. Fortunately, there's an alternative to the do-it-yourself route that allows homeowners to achieve their dream homes with exquisite results.
Instead of wasting your free time and getting subpar results, entrust your interior painting project to our professionals in Flagler County, St. Johns County, and Volusia County. We've been painting bathrooms for over a decade and know what it takes to bring out the best in your home.
For thoughtful and detail-oriented service, partner with Dr. Paint today. We offer bathroom painting services throughout Palm Coast, St. Augustine, Flagler Beach, Ormond Beach, Daytona Beach, and Port Orange, FL, and are ready to serve you.
Request a free estimate and book a service today. We look forward to helping you create your dream home.