Exterior Painting Services in Palm Coast, FL
Does your home's exterior feel a little flat? Perhaps, you've tried a few different things to improve its look. From cutting the grass to installing a new patio, you tried every trick in the book to completely change the look of your property. But no matter how beautiful your patio is or how amazing your grass is cut, you still can't seem to get the right look. This is likely due to the fact that the color of your home will always be the first thing that stands out. If you have a bad paint job, it will not matter how much work you put into the rest of your home. Fortunately, our professional painters can spruce up the outside of your home with a new coat of paint.
With our exterior painting service in Palm Coast, FL, Dr. Paint provides residents with a beautiful paint job that matches the aesthetic of their neighborhood. We'll help you choose the perfect color and texture for your exterior space so that you'll feel like you're living in your own personal oasis.
Read More

Give us a call if you are located in any of the following locations in FL:

Augustine
Flagler Beach
Ormond Beach
Daytona Beach
Port Orange

You deserve the best job possible, and our exterior house painting contractors are here to help! If it's time to invest in the look of your property, give a shout to one of the best exterior painting companies in Florida! Get a quote for your next painting project, or learn more about our other services like drywall repair and pressure washing.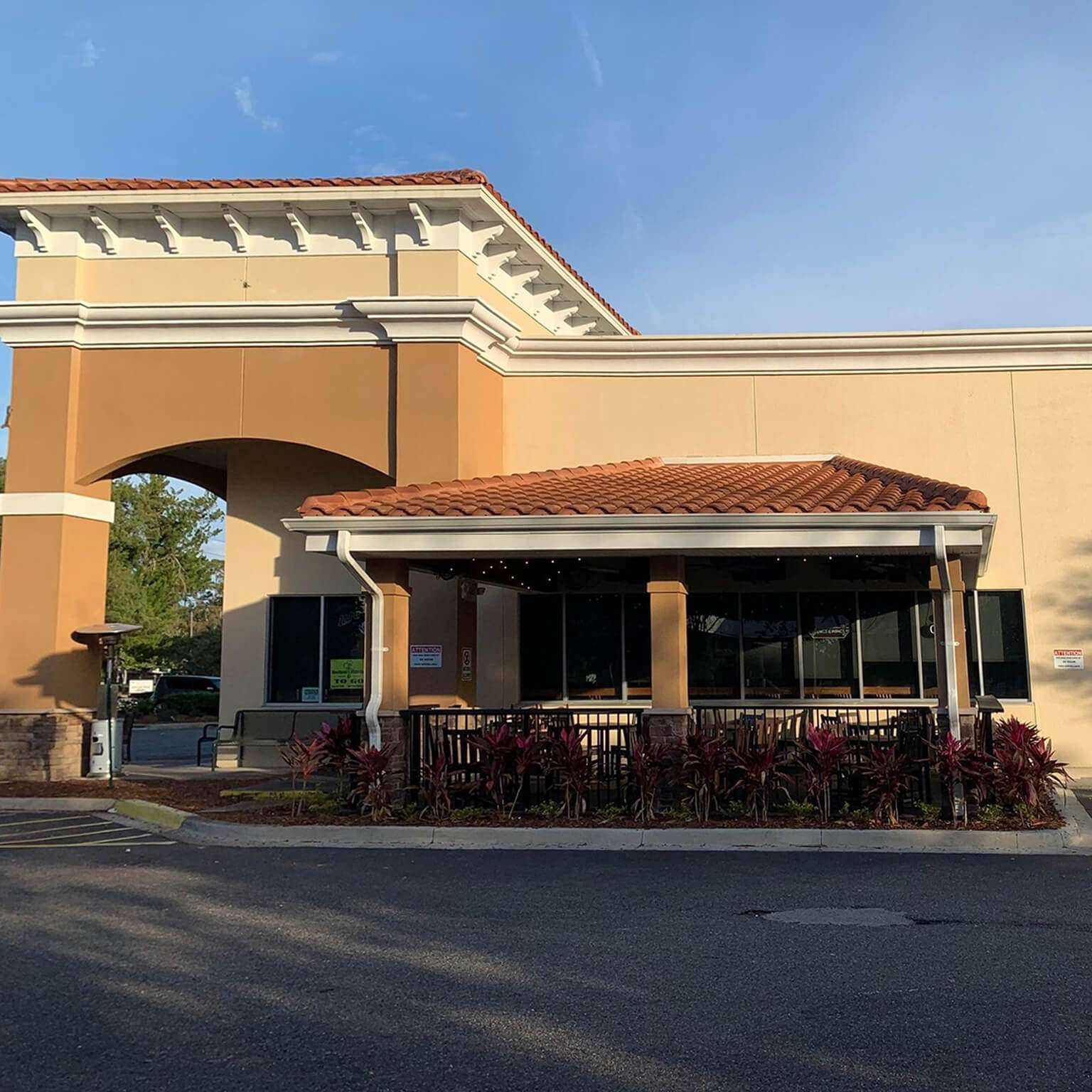 Hire Professional Exterior Painters in Palm Coast, FL, to Boost Your Home's Curb Appeal
As one of the highest-rated companies in the industry, we are growing rapidly and working to take Florida by storm! Our professional exterior painters provide beautiful designs, focusing on efficiency and the little things that add up to a job well done. Our exterior painting contractors are also some of the best in the business, combining veteran experience with the love and creativity needed to bring your dream designs to life. There's no other company you should turn to for exterior painting services in Palm Coast, FL.
Avoid the costly mistakes of hiring the wrong painter.
get your free estimate today!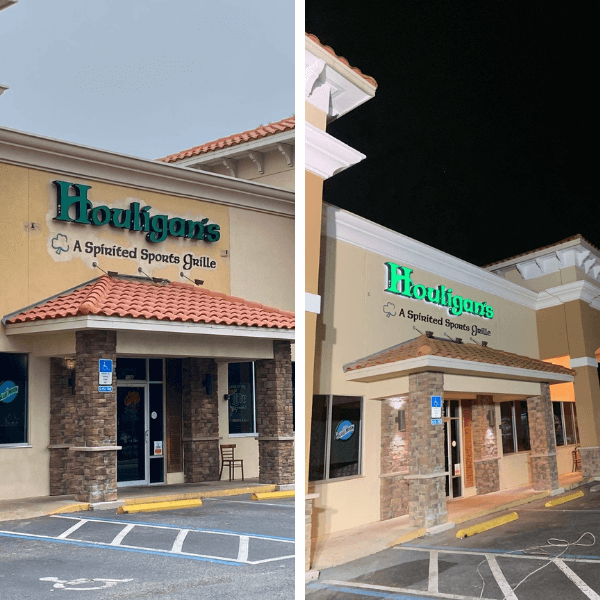 Invest in Exterior Home Painting & Invest in Decades of Beauty
What can painting the outside of your home do for you? While you might be thinking about the aesthetic benefits, there are also plenty of functional benefits to an exterior home painting that leaves homeowners pleased with their investment for years to come. Some benefits of our exterior house painting services include:
Increased Home Value
Painting the outside of your home can lead to instant home value improvements. An exterior paint job can offer over 100% of the value of its investment, essentially paying for itself with a higher home value.
Protection Against the Elements
Whether you're fighting rain, sleet, snow, or hail, nature can be unfair to your home. With the right exterior house painting service, you can add a protective shield to your home that defends it against the elements.
Improve the Lifespan of Your Home Siding
Traditional forms of siding like vinyl or wood need to be replaced when they fail to provide enough protection for your home. With a proper paint job, you can increase the lifespan of your siding by a few years!
Low Costs for Big Rewards
Best of all, a good exterior paint job won't cost a crazy amount, and it will bring tons of benefits to your home and family. With our exterior painting service in Palm Coast, FL, a reliable and rewarding paint job is just one call away.
Get an Exterior Painting Contractor That Saves You Time and Money
Our veteran-owned company knows the importance of planning and strategizing. Efficiency is bred from the strategy you implement, and we have become one of the top exterior painting companies in Florida due to our commitment to a process that works. Not only will this save you time and lead to a quick and easy paint job, but it will save you money from repair costs and damages that can come from a lack of care. Check out our work and get a glimpse of what makes our exterior painting service in Palm Coast, FL, so efficient and why homeowners should contact us immediately for a painting project they'll be proud of.
Read More

A Proven Process for Painting Residential Exteriors

We take great pride in our meticulous process when it comes to exterior painting projects. Our professional painting services are designed to transform your home and give it a fresh, vibrant look that will make your place the envy of the neighborhood.

Before starting any exterior painting project, our experts conduct a thorough inspection of your home's exterior surfaces. This allows us to identify any repairs or preparation work that may be needed before the painting begins. We believe that proper preparation is the key to a long-lasting and flawless finish.

Once the preparation is complete, we carefully apply the chosen paint color using high-quality materials and techniques. Our skilled painters pay attention to every detail, ensuring even coverage and a smooth, professional finish. After applying the paint, we will inspect every inch of your home's exterior to make sure the paint job is up to our high standards. Before leaving, we'll clean up our work area, returning your property to how we found it.

The Top Colors to Enhance Your Home's Exterior Surfaces

If you're looking to sell your property faster, selecting the appropriate paint colors is essential. Our local painters can help you choose the perfect color to improve the appeal and value of your home. We often recommend homeowners keep the following points in mind as they undertake exterior painting projects:

Use Neutral Colors: Neutral colors are a safe and timeless option when it comes to attracting potential buyers. Shades of beige, gray, and taupe create a clean and inviting look that appeals to a wide range of tastes. These colors can also make your home appear well-maintained and give it a fresh, modern feel.
Lean on Accent Colors: For a bolder statement, consider using accent colors strategically. Adding a pop of color to your front door or shutters can create a focal point and make your home stand out from the rest. Rich blues, deep reds, or vibrant greens can add character and charm to your property.

Working with a professional painting service provider like Dr. Paint can help you navigate color choices and ensure a cohesive and visually appealing result.
Improve Your Curb Appeal With Our Professional Painting Services
The exterior of your property is the first thing anyone sees, especially considering most people won't be able to go inside and see your beautiful designs. A messy exterior creates the wrong impression for visitors and family members and can even set a bad mood as you enter your home. If you want to improve your home's curb appeal and crack a few smiles each time you pull up to your home, Dr. Paint's exterior painting services in Palm Coast, FL, are the way to go. Contact us today to get started on your next painting project!
Frequently Asked Questions About Exterior Painting
How often should I repaint the exterior of my home?
On average, exterior painting projects are recommended every 5-10 years. However, you may need to repaint your home sooner than this depending on several factors, such as the quality of the previous paint job, climate conditions, and the type of siding your home has. Our experts can help you determine the best schedule for repainting your house.
How long will the exterior painting project take?
The duration of an exterior painting job depends on the size of your home and the extent of the preparation required. Our team will provide you with a detailed timeline during the free estimate.
Can you help me choose the right colors for my home?
Absolutely! Our team of experienced professionals can provide color consultation services to help you select the perfect colors that complement your home's style and surroundings.
What type of paint do you use?
We only use high-quality paints and materials that are specifically formulated for exterior surfaces. These paints offer excellent durability and resistance to harsh weather conditions.
How much will my exterior painting project cost?
The cost of the project depends on factors such as the size of your home, the extent of the preparation work, and the chosen paint colors. We provide free estimates to give you a clear understanding of the overall cost.